M&M Metalizing Sales offers vacuum chrome metalizing of automotive parts for your car, van, truck, motorcycle, bike, racing model and hot rod...
We can help you to customize or restore your vehicle with a chrome metalizing finish for:
wheel center caps, automotive grills, dashes, knobs and vents, lenses, windshields, side covers, fairings, tank lids, fenders, helmets and more...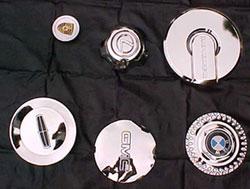 We have chrome plated parts for vehicles from many different manufacturers including
Acura, Aston Martin,
Bentley, BMW,
Cadillac, Chevy,
Ford, Honda, Hummer,
Infinity, Jaguar,
Landrover, Lexus, Lincoln,
Mitsubishi, Nissan,
Pontiac, Porsche
and Toyota to name a few.
---
NEW! Chromed Dodge Challenger hood scoops.
Fully functional and vented for better engine cooling. Manufactured in-house, in stock and ready to ship.
---
You choose the surface!
We can work on virtually any surface including plastic, polymer, aluminum, glass, urethane, fiberglass. Chroming on plastic and wheel center caps are our specialty. If you have a surface not mentioned just ask, we can probably do it.
You choose the color!
Our chrome plate surface coating is available in a variety of colors including green chrome, yellow or gold chrome, red chrome, blue chrome, black chrome, as well as traditional chrome finishes, if you have a special color in mind just ask us and we'll see what we can do!
All objects chromed are given a clear UV top coat or a two part urethane top coat, depending on the intended use of the item, offering a very durable as well as attractive finish.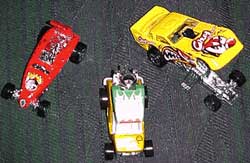 We can accommodate any sized object up to 36 inches. We have the fastest turn around time in the industry. There are no minimum quantities and no job is too small or too large.
Got something different you wish to metalize or chrome plate, send it our way, M&M Metalizing Sales chroming service is definitely not limited to the automotive trade. We are happy to plate anything you desire eg: toys, model figures, boat accessories, home furnishings ... just ask!